| | | | |
| --- | --- | --- | --- |
| Birth of the Old-Republic | | | |
Written by The Old Republic
Sunday, 29 January 2006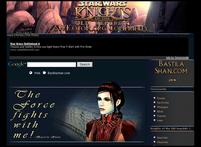 BastilaShan.com has given birth to a new site. After careful consideration the old BastilaShan.com site was taken down. It was a great site but the domain name "BastilaShan.com" didn't represent the site clearly as a KotOR fan site for the whole series. The Star Wars Knights of the Old Republic content needed a new home, one that would show fans that it was a site for the entire series. That's how the Old-Republic.com was born. The old BastilaShan.com domain name now points to our Bastila Shan character bio page, which is a nice way to retire the old name. The fans of the old BastilaShan.com now have a new home, one that will build on what BastilaShan.com had started. The Old-Republic.com is ready to take BastilaShan.com's place as a quality Star Wars Knights of the Old Republic video game series fan site. Our new community is already growing,
join us
Last Updated ( Friday, 02 November 2007 )
Comments
There are no comments yet - feel free to add one using the form below...
---
Page 1 of 0 ( 0 comments )
---